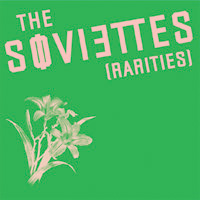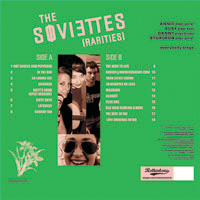 Click here to download artwork, liner notes, and other goodies.
The Soviettes "Rarities"
01. Hot Sauced and Peppered
02. In the Red
03. Go Lambs Go!
04. Sandbox
05. Matt's Song (Split Version)
06. Sixty Days
07. Latchkey
08. Sunday AM
09. The Nine To Life
10. gossip@whogivesashit.com
11. Twin Cities Sound
12. 30 Minutes or Less
13. Mazacon
14. Alright
15. Plus One
16. Old Man Reading a Book
17. The Best of Me
18. LPIII Original Intro

Notes on the album:

OK... so, here's a record with a bunch of old songs on it which were never officially made available on the internet. Songs which have gone out of print or never seen the light of day - stuff we would have probably just sat on without another thought until Ollie came to us last year and asked if he could put it out as a collection. Six months later, here it is.
Putting this all together was pretty strange having not heard our first recordings in years and even forgetting about a few songs we recorded but never released. You can hear us learning how to sing and play our guitars on the early tracks, and maybe start to take ourselves too seriously on one or two of the later tracks, haha. Some of it is great, and some of it is totally embarrassing but it's honest. When we get together in march to play a few shows & have a party for the record, it will be the first time we'll all have been in a room together since the day we stopped playing. I never thought that would happen again, but I'm really glad that it will. This band is really special to us, it was a huge part of our lives for a long time. It's nice to hear that other people liked it too.
xoxo - The Soviettes