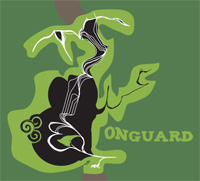 ONGUARD
"This Has its Price and That Price Has Been Paid"
Songs And Artwork by Jason Shevchuk
Years Active:
2007
Jason Shevchuk is no stranger to music. From Kid Dynamite to None More Black to LaGrecia, he has carved out a niche for himself and created honest music that has proved to be meaningful. In whatever form, his musical career and history has profoundly spoken to someone somewhere. OnGuard is part of that history, but never truly received the attention it deserved. It's like it never stood a chance.
After the breakup of None More Black, OnGuard resurfaced as Shevchuk's new musical project, but sadly, disappeared soon thereafter. And, before the dust had even settled, LaGrecia rose from the ashes with Shevchuk at the helm. It almost seems like OnGuard had never existed, and its remnants - whatever was not lost - were quickly distributed to those who were willing to listen, confused as to why OnGuard never received a proper release.
Now, Red Sound Records is proud to bring to you that release. Recorded and assembled by Shevchuk himself, "This Has Its Price and That Price Has Been Paid" is all that OnGuard ever was: it's shockingly moving, charmingly rough around the edges, and its impact undeniable.