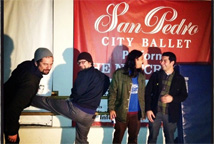 TOYS THAT KILL
"Live at the Triple Rock"
Music by Toys That Kill
Artwork by Lauren Denitzio
Toys That Kill are great recorded, better live. As any band should be.
San Pedro is a de-facto sister city of my hometown of Gainesville, FL. Our bands have been trading shows since I became active in the amazing / ridiculous adventure that is crossing the USA in a touring punk band. My old band with Will played with Toddís old band with Sean, F.Y.P. one night in Gainesville. Skinheads kind of ruined that night, as was the style of those days. F.Y.P. carried on to form Toys That Kill. They perfected the style of great catchy punk tackling serious topics without taking themselves too serious.
Bomb sniffing dogs, not cute puppies. A rowdy block party that could crackle into a riot if the cops show up at the wrong time. Toys that Kill remain my favorite project out of the San Pedro cast of characters that have been playing musical chairs a lot in the last few years.
Fest 4, 5, or 6, Toys That Kill played right after us at Common Grounds. Iím not certain right now, and the year isnít important. Whatís important is that as I was packing up, Chachi asked me if he could use my gear. Of course, my gear is his, sister cities and all, Iíve used his head and cabinet on the West Coast plenty. However on this night he didnít have a bass to play. Nobody has ever had the balls to straight up ask for my bass without weeks of notice before. I did say yes, and plugged everything back in for him. I was eager to run and catch some of The Bomb at another venue, so I was rushed. He stopped me again and asked for a pick. Of course, hereís the picks from my pocket. Boring story, yes, but the fact that he can get on a plane with nothing, arrive minutes before ďgo timeĒ, use unfamiliar gear, and still kill it.....thatís not something that happens overnight.
Toys That Kill have been kind enough to take us out on tour with them down the West Coast, and even crazy enough to give us their van full of their gear for two weeks the last time we went out that way. One of my top 5 rock experiences was 4th of July 2005. That was in San Pedro, that was with Toys That Kill, and 4 other bands you would think I was trying to name drop, and you wouldnít believe me.
Fun Fact #1: The live photo of Grabass in the split LP we did with Toys That Kill was taken in San Pedro.
Fun Fact #2: The only time Iíve seen the book written by Danny Rolling, who killed a bunch of people in Gainesville, was on Seanís book shelf. I cautiously read it and creeped myself out while Sean was getting BBQ supplies together, not killing anyone, Iím sure.
-Dave Drobach / Bass player. Grabass Charlestons
Gainesville, FL 2012